VELVET, timeless Permaflex mattress. This product gives an elegant and refined rest. Its internal structure is entirely designed in Touch Foam and ensures the perfect adaptation of each area of the body, receiving it in a correct and sustained way. The elegant jacquard fabric cover, combined with the non-allergenic fibre padding, supplies the right breathability and hygiene, which are fundamental for a healthy and extended sleep.
P.g. Permaflex-guaranteed.

COMPONENT BOARD
Multi-needle quilting.
Jacquard fabric cover with square texture.
Techno TNT fabric Firestop protective.
High lift non-allergenic polyester fibre padding.
Non-deformable high density Touch Foam structure.
Padded and high breathable perimeter band.
TECHNICAL CHARACTERISTICS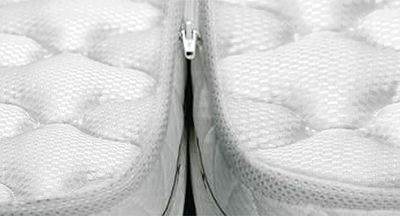 OPTIONAL - UNION ZIPPER
Thanks to the union zipper, supplied on request, it has never been so simple to realize a double mattress from two single mattresses. The zipper is sewed with the ringside of the mattress to guarantee the best bonding, becoming imperceptible during the sleep.