FEELING is the Permaflex Hotel Line mattress with solid comfort and anatomic support. The exclusive Touch Foam supporting sheet with increased thickness on both sides and the solid 700 Mini Bonnel springs springing create a bearing structure that is perfect for a regenerating and of class rest. The non-allergenic jacquard fabric cover and the anti-sinking perimeter box make this mattress unique and solid. The high resistance needle felt and the non-allergenic polyester fibre padding perfect flawlessly the product, guaranteeing quality and a regenerating sleep.
P.g. Permaflex-guaranteed.


COMPONENT BOARD
Multi-needle quilting.
Non-allergenic jacquard fabric cover with square texture.
Techno TNT insulating and breathable layer.
High lift non-allergenic polyester fibre padding.
High resistance needle felt.
Micro-ventilated non-deformable with calibrated thickness Touch Foam support.
700 Mini Bonnel springs model.
Padded and high breathable perimeter band.
Perimeter box with micro-ventilated high density Touch Foam with increased thickness.
TECHNICAL CHARACTERISTICS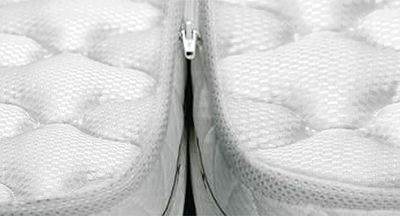 OPTIONAL - UNION ZIPPER
Thanks to the union zipper, supplied on request, it has never been so simple to realize a double mattress from two single mattresses. The zipper is sewed with the ringside of the mattress to guarantee the best bonding, becoming imperceptible during the sleep.