Intensity with anatomical support, was born from the precision and choice of high quality materials that Permaflex selected for the Hotel Range. Thanks to its special springing with 800 indipendent and pocket springs, it sustains and gives a pleasant sensation to the body during the rest. Maximum breathability is provided by non-allergenic padding and by the special jacquard fabric. The quality of this mattress is completed by the anti-sinking perimeter box.
P.g. Permaflex-guaranteed.


COMPONENT BOARD
Multi-needle quilting.
Jacquard fabric cover with square texture.
Techno Fabric TNT Firestop protective.
High lift non-allergenic polyester fibre padding.
Techno TNT insulating and breathable layer.
Micro-ventilated non-deformable with calibrated thickness Touch Foam support.
800 indipendent springs model.
Quilted and padded perimeter band with high breathability.
Perimeter box with micro-ventilated high density Touch Foam with increased thickness.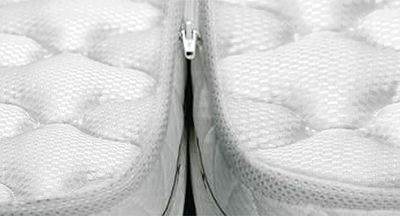 OPTIONALS - UNION ZIPPER
Thanks to the union zipper, supplied on request, it has never been so simple to realize a double mattress from two single mattresses. The zipper is sewed with the ringside of the mattress to guarantee the best bonding, becoming imperceptible during the sleep.